Our Transformational Programs
Though talents and brilliance exist everywhere, opportunities do not. We believe that education is the best way to break cycle of poverty. CIFCAD provides literacy and language skills training, educational, vocational, and entrepreneurial programs. The program has built strong network that provide mentorship to students on different aspects of their life, connect the grassroot youth to knowledge and opportunities, and built communities that become active participants in their Counties decision making.
For out of school youth, CIFCAD empower them with soft skills required to be agents of change such as networking, teamwork, critical thinking, public speaking, identity, creativity, and self-confidence. In addition, CIFCAD creates a platform to learn hard skills such as marketing, branding, budgeting, planning, market research, pitching and savings.
Ongoing education activities
Scholarships for needy pupils and students
Mentorship
Vocational trainings
Entrepreneurship trainings
Soft skills packages
Networking
Meal card programs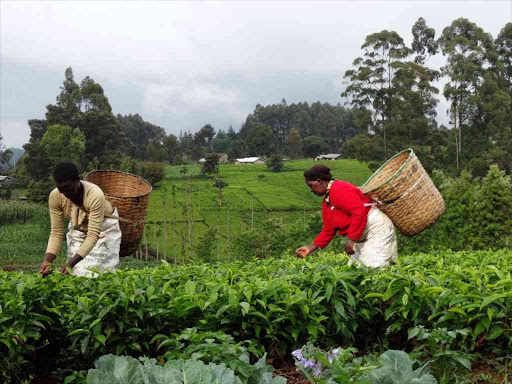 Women Economic Empowerment
CIFCAD is committed to improving women's financial literacy as part of addressing GBV issues. Our program encourages workers in the tea sector to increase their open communication among spouses regarding finances. Tea farmers are advised to include their spouses in decision-making on savings, investments, and spending.
CIFCAD champions the elimination of gender differences in accessing resources. Ensuring equal access to natural resources such as land is one step that ensures economic empowerment for women. We facilitate women to acquire labor-saving technologies to empower them to overcome constraints in production.
We sensitize tea farmers to increase their savings in financial institutions to increase safety. Farmers are encouraged to increase the use of formal savings methods such as registered savings and credit organizations (Saccos) and Formation of VSLAs (Voluntary Savings and Loaning Associations). Our organization conducts seminars to educate women in the tea sector on financial literacy and how to save for investment rather than spend everything.
CIFCAD also train women to decrease risk borrowing behavior from informal lenders and instead practice responsible borrowing. Informal lenders have high interest on their loans which is detrimental to achieving financial success.  
We have also partnered with Women Win and Ethical Tea Partnership to build the economic resilience of workers through training factory workers on participation in decision making, leadership and roles of gender committees. Our approach to economic empowerment also includes helping women identify alternative opportunities to earn income. We offer entrepreneurial training on various ventures that women can engage in to supplement their income from farming.
The economic empowerment programs apply the solutions listed below.
Training women on agriculture diversification, fast growing plants and resilient strategies
Provision of agricultural extension services
Linkage to market and trainings
Training on value addition, marketing, storage and after sale services
Registration of functional women farmers groups along the value chains
Enhance uptake of technologies and innovative farm management
Improved dairy farming with increased yields
Access to equity funds and subsidized loans to enhance financing
Advocacy strategies to lobby both at national and county for provision of essential services
One way of dealing with Gender-based Violence (GBV) is tackling the root cause of the problem. CIFCAD has undertaken an education program targeting men in the informal sectors, including motorbike taxi riders (Boda Bodas), to sensitize them on GBV. Our goal is to reach and engage with men in the community, train them and help them to be male champions fighting GBV at the community. Partnering with positive role models has effectively engaged men in society in the change process.
The process also includes partnering with people of influence in society to act as gender champions. Such leaders include community leaders, and their role is to raise awareness of revamped structures for reporting.  
We have partnered with local actors and private sector to strengthen structures of gender reporting in the communities. Additionally, we have also worked closely with gender committees at Tea factories to increase the capacity of gender committees to identify the importance of allowing workers to voice their opinions.
Our partnership is focused on assisting factories in developing sexual harassment and ant-gender discrimination policies. We also work closely with factory leadership to improve the organizational reporting mechanisms for gender-related issues. We conduct training for congregations and members of tea factories on gender issues and how to address the problem.
Climate Change and Clean Cooking Energy
Globally, nations cannot achieve the sustainable development goal of ending climate change without addressing the way families cook. Energy plays a key role in eco-system but if governments do not think about energy generation, then the environment will always be negatively impacted.
To contribute to sustainable development goals, CIFCAD works towards mitigating the unforgiving climate change and environmental degradations through,
Facilitating dialogues with county government on creating enabling environment for clean energy and further discussions on uptake of clean cooking techniques
Training women on existing clean cooking fuels
Helping women access variety of clean cooking solutions
Support women with knowledge, skills and required network to establish self-sustaining clean energy businesses such as selling solar products, briquettes and cookstoves
Provide women with business skills, branding, market information and support with access to finance and profitable networks.
Improve the family wellbeing by increasing women energy entrepreneurs, increase income leading to health and stronger family units
Gender Equality and Transformative Leadership
This is done under two dockets:
Gender equality initiatives
Leadership and governance
Gender equality Initiatives
The program acknowledges that gender-based violence is a barrier to gender equality. Gender based violence is experienced in different set-ups and it leads to long term effects to all survivors.
CIFCAD addresses GBV through the following interventions.
Creating awareness on GBV and prevention strategies
GBV response through collaboration with other actors
Provision of psychosocial support
Provision of dignity kits
Enhance referral pathway to ensure survivors access all services.
Provision of food vouchers and food baskets to the most vulnerable survivors and elderly.
Leadership and Governance
The two-third gender principle is intended to promote equality in sectors of the society where women have been disadvantaged. This principle is intended to institutionalize increased women's participation in the tea sector.
The tea production industry is male-dominated despite most of the workforce being women. However, men occupy most leadership positions, which calls for change to ensure increased representation of women and adherence to the two-third gender rule. We encourage women to take leadership positions to drive the institutional changes needed to promote equality.   
We are currently working with farmers in the tea sector and encouraging them to take positions to ensure their organization meets the two-third gender rule. Our support includes partnering with tea factories and societies to support and promote gender equality. Giving women support and opportunities is the first step toward addressing the numerous challenges. 
CIFCAD works towards achieving transformative leadership and good governance through.
Reaching out to orphans and vulnerable children and linking them to opportunities where they can change their lives and achieve their dreams
Training grassroot women on gender equality, accountability and increasing women participation in both national and county processes.
Train community on gender-based violence prevention and response
Older people are among the neglected and some struggle to access basic services. CIFCAD supports the elderly with safety nets, food baskets and access to health needs
Want to make a difference?
Your Support continues to impact lives of many